ANDERSON TOWING AND RECOVERY IN BEAVERTON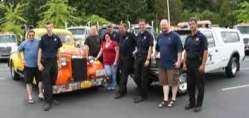 Considered "Our Personal Tow Service" by Craig Bassitt
3 Reasons Why We Recommend Anderson Towing:
Integrity
Cleanliness
Superior Care and Concern (just like us!)
Washington County Residents call Anderson Towing first! They'll take care of ALL the details. "Be Our Best!" That sums up the goals of Anderson Towing, and why we want Bassitt Auto Co. customers in their capable hands when they have towing needs.
When you see the cleanliness and quality of their equipment, their drivers and their shop – you'll be as impressed as we are. And, Anderson Towing is the only tow service with exclusive 24-hour access to Bassitt Auto's secured private lot! Anderson Towing – Setting a higher standard for the Tow industry! Family owned, yet ultra-professional (just like us!)