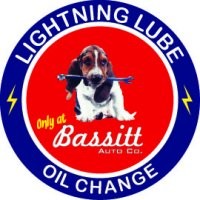 Our shop has recently installed an oil change rack, to accommodate even more of your vehicle's needs! Not only will we change your oil, we'll check all of your fluid levels and filters to make sure your vehicle is ready for your busy schedule! If we see anything along the way that may require attention, we'll let you know. In fact, one of our certified technicians will be doing these inspections, so you can rest assured that you have received service from the very best of the industry!
For this reason, we ask that you schedule an appointment for our "Lightning Lube" service to make sure you're taken care of in a flash! Our open slots fill up fast, so be sure to call in when you're getting close to your 3 month/3,000 mile interval!
Better yet, our friendly receptionist can schedule you 3 months in advance and give you a reminder call to see if that time still works for you, or if we can reschedule. The last thing you want to have to remember is to get an oil change with your already hectic schedule! We'll take care of it for you!
C'mon by and see what sets us apart from many others. You'll be glad that you did!